Kids, I'm going to tell you a story. The story of how I... no, wait. Sorry. In a world overrun with eager trainers, the Pokemon Administration has taken desperate measures to ensure the remaining wild Pokemon survive, while allowing trainers to continue their paths. This has resulted in the limiting of catching wild Pokemon, the banning of certain items, and finally--the closing of Pokemon Resurrection Stations in all Pokemon Centers. Enter Tyton. He's thirteen and has less than a year to get all the way to the Pokemon League. Join him and his team as they follow the road to the Elite Four, get wrapped up in the schemes of Teams Aqua and Magma, and (possibly) uncover the mystery of Scott the poofy-haired stalker. There's also a Latin ladies' man Lombre, a swagalicious Gloom, a Numel that hates everyone he's ever met, a firecracker of a Whismur, and the most lovable Dustox you've ever seen. But we'll get to that.
Please be warned that the following page contains spoilers.


Quick jump to comments
I'm So Majestic.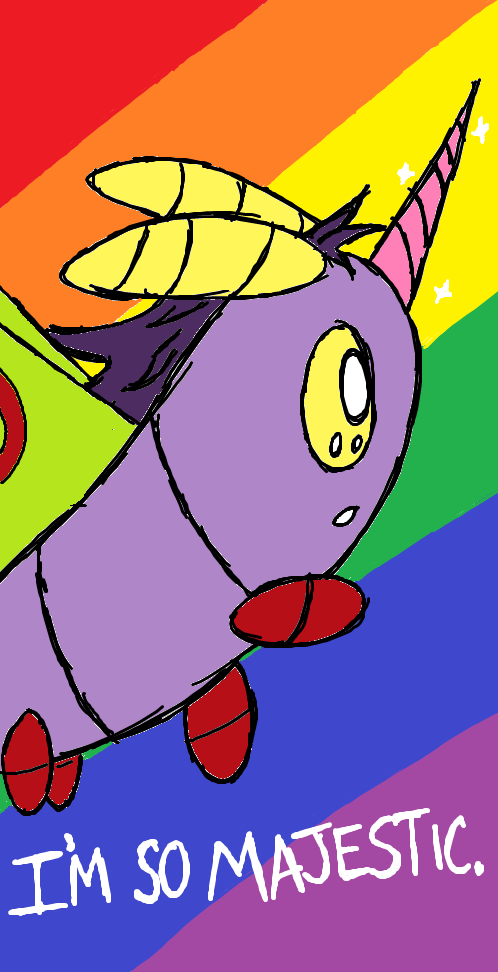 Created for Gigi's recent contest. Didn't win anything cuzz she's psycho. I mean, LOOK AT THIS THING. IT'S A DUSTICORN.
I'll Wear Your Granddad's Clothes (I Look Incredible)
I don't know why it took me so long to think of doing this.
FUN FACTS! (Christmas 2012)
Just a few things I thought you guys might like to know. Consider it my nonsecular winter gift-giving-day treat to you. And because Gigi asked for it.
OPPAN LOMBRE STYLE
Because this had to happen.
Best Team Ever (100-Fan Reward as Requested by iBeebs)
I think this is a fitting way to end this group of requests. Just a simple portrait of the team. Tried to do something unique with each pose. =)
OOOOOHH!! (100-Fan Reward as Requested by xgamez3000)
Probably the least comic-related request, xgamez3000 wanted Mordecai and Rigby from Regular Show as a Taillow and Zigzagoon. Enjoy!
A Fateful Sneeze (100-Fan Reward as Requested by Zelkova)
Zelkova, ever one to challenge me creatively, requested a cute Charmander whose nap-time sneeze ignites a forest. And he wanted a dynamic L-shaped panel. I don't know how cute the Charmander is, because I haven't had much experience drawing them, but this is my attempt.
Panic Across Regions (100-Fan Reward as Requested by Miles Hikari)
This one was probably the hardest to do so far, because I was using an original character that didn't belong to the requester, and Robin has so much depth as a character, it was hard to make her seem like herself in a single page. I hope it at least somewhat resembles her, though. (Robin and Puck are from It's a Hard Life.) Also, random Lucario was part of the request. Dunno why it's there. It's just such a Lucario.
Dragonborn (100-Fan Reward as Requested by Pokemontrainergigi)
Gigi suggested Canidae and Erin playing and frolicking like dog Pokemon are wont to do, but I opted for her secondary request, a Skyrim image. Didn't realize it was off-center till I was done, though....
A Haunting in Hoenn (100-Fan Reward as Requested by Thunderbolt)
A lighthearted little scene with Rorschach trying to scare DJ with a cutout of Blu. DJ is playing a game on Ty's Pokedex in reference to the recent post on the Questions page.
The Fight of the Century (100-Fan Reward as Requested by Ginchiyo)
I was asked to draw a Riolu with a ninja mask fighting Gerald, with the Riolu's female trainer in the background. Decided to turn it into a cage fight poster. Also, I didn't really have much to go on for the trainer, so sorry if she's not how you pictured her. =/
How's Your Spinach? (100-Fan Reward as Requested by Crazybob)
I was basically given free reign over the absurdity of this situation (Ty meeting an insane man in a suit and top hat), so I looked to Jhonen Vasquez's "Happy Noodle Boy" as inspiration and let my mind run wild. This is actually closer to how I draw when I'm not doing the comic.
Mt. Silver (100-Fan Reward as Requested by Lucario01)
Please be aware that this is a hypothetical comic and does not necessarily reflect any real scenario. The request was an older Ty and evolved team confronting either Steven or Red. I changed the character quotes a bit from the original suggestion and chose to make it an approaching shot as opposed to the start of the battle. If I hadn't made the size restraints for the requests, this would have ended up cooler. Sorry. =/
EVERYBODY! (Secret Bonus Content for Page 310)
This would have been posted the same day as Page 310 if anyone commented with the password (Everybody), but nobody did. However, someone came close-ish, and I was so proud of this I had to post it.
Erin Sketch (75 fans)
My first drawing of Erin. As you can see, she had a more cartoony look, her fangs were more prominent, and the coloring was a little different.
Tyton and Haunshaul Sketches (50 fans)
More sketches of Ty's face, featuring several variations on the style, as well as some early designs of Haunshaul. As you can see, his eyes and mouth went through a couple iterations before ending up in their current design.
Salad Fingers Weavile (For Pokemontrainergigi)
I made this based on my comment on Page 9 of Pokemontrainergigi's PMD: Sky Nuzlocke. Posting it here because I love it. XD
Tyton Sketches 2 (30 fans)
A second set of character sketches for Tyton, moving marginally closer to his current appearance.
Tyton Sketches 1 (25 fans)
Some initial character sketches I made to decide how I wanted Tyton to look in the comic. As you can see, he originally had a softer, more cartoony feel initially. This was before I started to keep my sketch style for the entirety of the comic.
Back to top.